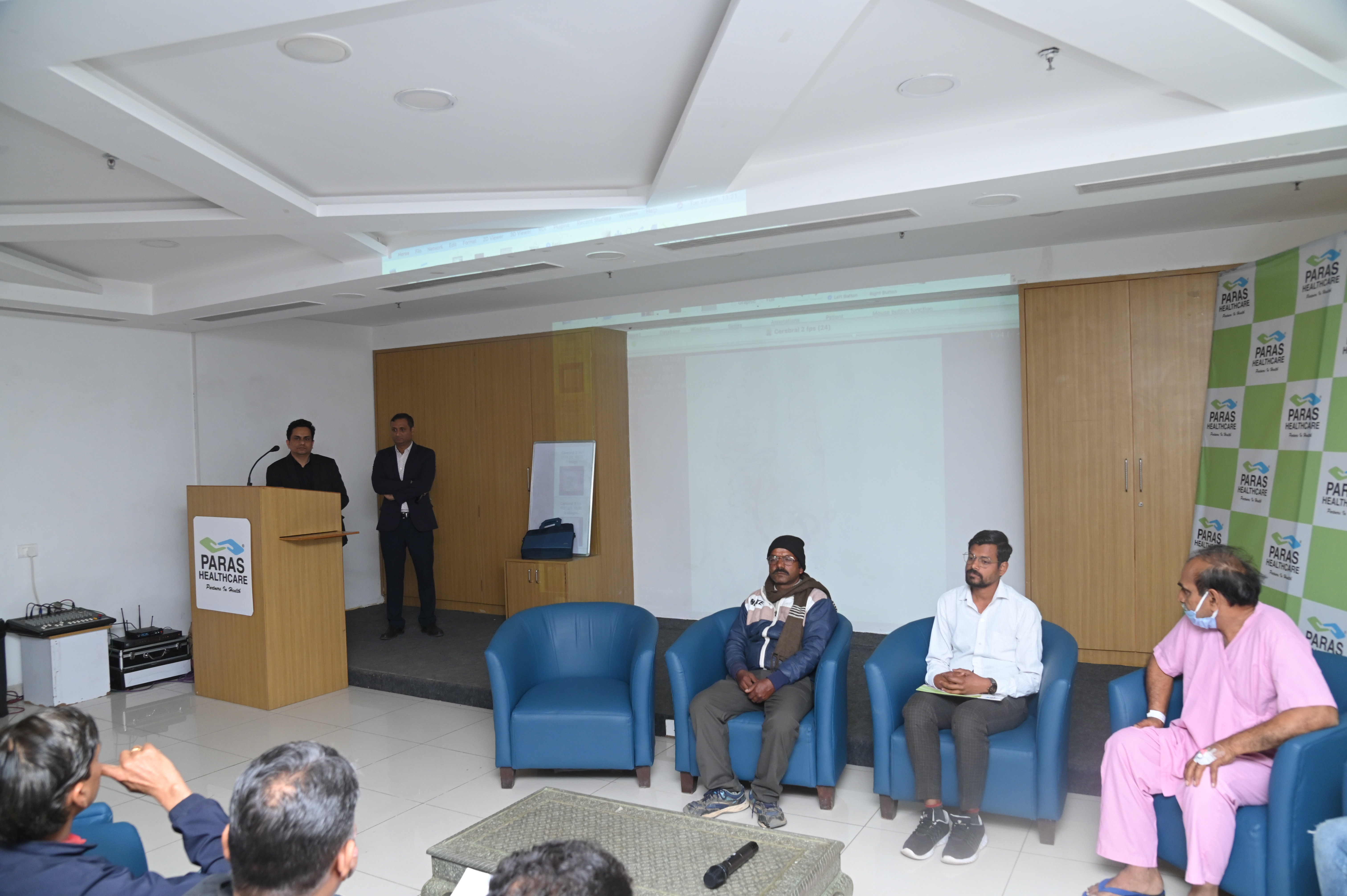 Udaipur,: Neuro team of Paras Hospital, Udaipur cured a 55 year old male by the treatment procedure of Mechanical Thrombectomy. In this procedure, large clots are removed from the blocked blood vessels without any incision.
A stroke occurs when there's a disruption of blood flow to the brain and is typically due to a clot blocking a blood vessel
In some cases, tPA does not dissolve the clot. Or, tPA might not be an option if too much time has passed since your symptoms started. In this case, it may be possible to clear the clot using mechanical thrombectomy.
This procedure can also be done up to 24 hours after the onset of stroke. It was a very complicated procedure which was made successful by the neuro team of Senior Consultant Neurology and Interventional Neuro Physician - Dr. Tarun Mathur and Senior Consultant Neurology - Dr. Manish Kulshreshtha of Paras Hospital, Udaipur.
A 55-year-old male from Nimbahera had a blockage of a major artery supplying the right half of the brain, resulting in loss of function in the patient's left arm and leg. At the hospital, an MRI scan of his head was done, in which it was revealed that there was an infarct on the right side of the brain. An MRI scan showed that a major artery supplying the right half of the brain was blocked. To cure which treatment by mechanical thrombectomy was necessary. Then the doctors explained to his family and finally in this procedure, the thrombus was removed with a wire from the large artery supplying the right half of the brain, after which the patient started to recover and regained his limbs. also started moving. Although now the patient is fine and is doing his own work on his own. This procedure was performed in the Neuro Cathlab.
Dr. Tarun Mathur, Senior Consultant Neurology & Interventional Neurology, Paras Hospital said, "The mechanical thrombectomy technique is available only in select centers in Rajasthan. This not only saves the life of the patient but also reduces the chances of disability after stroke. In this procedure, a retriever stent device is inserted through the groin into a blood vessel and passed through an artery to the brain, where it is used to remove a blood clot. Trials have shown that if a patient has this procedure within 6 to 8 hours of the onset of stroke symptoms, their chances of survival and quality of life increase significantly."
Dr. Manish Kulshrestha, Senior Consultant Neurology, Paras Hospital Udaipur, said, "When the patient was brought to the hospital, he had weakness in his left arm and leg. Then looking at the condition of the patient, it was decided to treat him with mechanical thrombectomy. For this his family members were also explained and after that the patient's life could be saved by this process with great care. If the patient's symptoms are identified early and brought to the hospital, then these techniques can be beneficial for their treatment. Therefore, if a patient has weakness in one part of the body or distortion of the face or problems with balance, the appropriate hospital should be contacted immediately."
We are among the first programs in the region offering mechanical thrombectomy for stroke that does not respond to clot-busting drugs. Mechanical thrombectomy can improve the chance of a good long-term outcome, -says FD Abid T
साभार :
---
© CopyRight Pressnote.in | A Avid Web Solutions Venture.