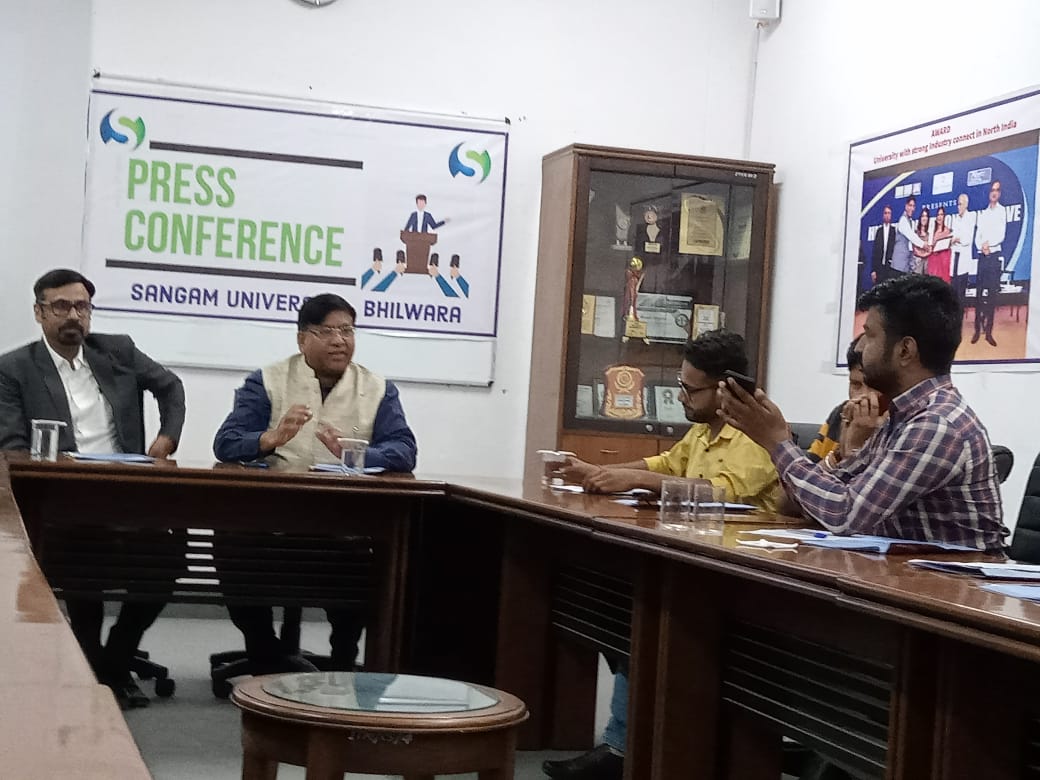 Bhilwara. Sangam university has been continuously establishing benchmark of excellence in quality education in contemporary times along with encouragement to quality research, athletics, placement strategies and other miscellaneous activities. The high water mark set by the holistic student centric education pattern of Sangam University has set unique standards of success not only in Rajasthan state but also at an all- India level. Vice Chancellor Sangam University Prof. Dr.Karunesh Saxena during his rendezvous with the media was delighted to share that last year the university has been accredited by NAAC and since then there has been a continuous academic growth and expansion of both faculty and the students.
IIRF Ranking 2022-
The Sangam University has again brought laurels in by being recognized as one of the prestigious Private Universities by Indian Institutional Ranking Framework IIRF 2022. Sangam University secured 6th IIRF ranking Rajasthan, 24th Ranking in North Zone and 45th ranking at the national level.
Vice Chancellor Prof Dr. Karunesh Saxena highlighted that IIRF ranking is based on concerete evaluation and assessment by academic experts and it is the most diverse and authentic ranking accepted by the corporate world in India. The various parameters on which the IIRF rankings are based include teaching- learning methods, research, placement statistics, status and employability, industry revenue, integration, future orientation and international outlook. Sangam University has performed remarkably well in various activities and events in all the aforementioned areas in the past years.
Federation for World Academics Expo-
The Federation for World Academics had invited Sangam University to participate in the FWA University and Skill Expo and Higher Education Conclave which was held on 31st July 2022 in New Delhi.
This National Conclave was based on the theme - "India: Capability building of Individuals & Institutions" . In this conclave more than 50 Vice Chancellors, Directors, Senior Academicians, and Senior Representatives from Sector Skill Councils, Media, NSDC, AICTE, UGC, AIU, and NBA were invited to share and present their knowledge, experiences, challenges, and opportunities in Indian Higher Education System. Vice Chancellor Sangam University Prof Dr. Karunesh Saxena and Director IQAC Prof Dr. Preeti Mehta were invited for this conclave and they discussed unprecedented challenges and positive solutions to current issues and the Impact of new education policy on educational institutions and industry. The Academic Council FWA granted the "University with Strong Industry Connect In North India " to Prof. Dr. Karunesh Saxena, Vice Chancellor Sangam University and Prof Dr. Preeti Mehta Director IQAC Sangam University, in the presence of an august gathering at Le Meridien New Delhi. This award was conferred upon by Prof Pankaj Mittal, General Secretary, All India Universities and Prof KK Agrawal , Chairman National Board of Accreditation.
More stories of success and national achievements of Sangam University Bhilwara-
Prof. Dr. Rajeev Mehta, Registrar Sangam University was glad to share that this year has been extremely fortunate for the Sangam University in terms of academic achievement as well as athletic and games at national level.
This year the Vice Chancellor Prof Dr Karunesh Saxena has been honoured as the Chair Professor of Indian Council of Cultural Relations. The faculty of Sangam university has also brought fame and accolades to the institution. Assistant Professor Dr Zorawar Singh from School of Arts and Humanities received Govind Vallabh Pant Award in the year 2019 for his book on Police. This award was given by Shri Amit Shah, Home Minister Government of India. Dr Singh has been the sole recipient of this award from Rajasthan till date.
Another national level award was given by Minsitry of Defence, Govt of India and Director General NCC - Defence State Award 2022 was presented to Lieutenant Raj Kumar Jain NCC Officer and Assistant Professor Sangam University. Lt. Rajkumar Jain is one of the four NCC officers in India who have received this prestigious award.
Talking about the student performance at national level, NCC Cadet Gautam Joshi was selected for Republic Day Parade 2022. Joshi was the only cadet selected for RDC Camp and he was part of the Rajasthan Contingent. Currently Cadet Kiran Ranawat is participating in Ek Bharat Shreshtha Bharat Camp in New Delhi. Tulsi Chippa, Student of Sangam University has bagged Gold Medal in All India Inter University Drop RoBall Game held in Rohtak Haryana.
Marketing Head Amit Jain mentioned that new MOUs, NAAC accreditation and IIRF ranking would be beneficial for quality upscaling of the university.
Public Relations Officer Raj Kumar Jain further discussed that various MOUs have been signed with companies working jn areas of logistics, retail, skill development, mining, etc. Students of Sangam university are achieving great heights by their stellar performance in fields of NCC, NSS, Scouts. Such holistically performing students are the real heritage of Sangam University and the institution is dedicated to bring out the best in each one of it's students.
साभार :
---
© CopyRight Pressnote.in | A Avid Web Solutions Venture.