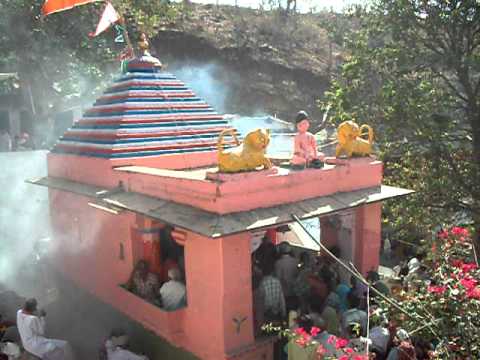 In the lap of beautiful hills, Ghotiya Amba is believed to have been the hiding place of Pandavas during Mahabharta times. People here strongly believe that the mango trees, (Which is called Amba in local dialect) planted by Pandav as, gave this name to the place as Ghotia Amba. Pandavas had spent some time at Laponee place of Ghotia Amba during their Vanvaas. The mango tree, planted by them, can be still seen there. There areFive Kunds of Pandavas at this place. Inside the temple of Ghoteshwar Mahadev are situated the idols of Kunti and Droopadi along with the Pandavas. It is About 35 Km. from Banswara and 190 Km. from Udaipur,
Ghoteshwar Mahadev is situated the beautiful place, Kelapaani where natural waterfall keeps falling on Shivlinga coming through Gomookh. It is said that Pandavas had served food to 88 thousand saints on the leaves of Kela in this temple. In the temple are situated the deities of Shivling, Parvati and Uma Mahesvar. Outside the temple are the statues of Bhairon, Thandavkalin Shiv and Chamunda. This was Shiv Panchayatan temple. We can see a inscription embedded on stone dating 31st January 1080. The description of the dynasty of King Paramars and their works can be read in poetic expression. On the hills infront of temple are four Shiv temples where the remains of Ganesh, Shiv, Brahma, Vishnu, Navgruh, Chamunda, Tandavleen Shiv, Bhairon etc. are lying. There is double storey shutter engraved with beautiful carvings at the south of the mountain along the banks of Gumgella Pond. The shutter was the main gate of the temple which is popular as Hanumangadi. Here, we can see 3 temples of Shivji, one of Vishnuji and one of Hanumanji. In Vishnu temple are situated the idols of Parvati, Pootna, Vishnu, Brahma, Shiv, Krishna with playing flute and Trimoorti of Vishnuji with 18 Hands. Near it is a Kund made of stone. Due to all these, Ghotiya Amba has got a distinct value amongst the tourist places of the district. Every year during the Hindu month Chetra, a huge fair takes place here in which pilgrims from Rajasthan, Gujarat and Madhya Pradesh come in large number which symbolizes the reverence of the holy place.
साभार :
---
© CopyRight Pressnote.in | A Avid Web Solutions Venture.