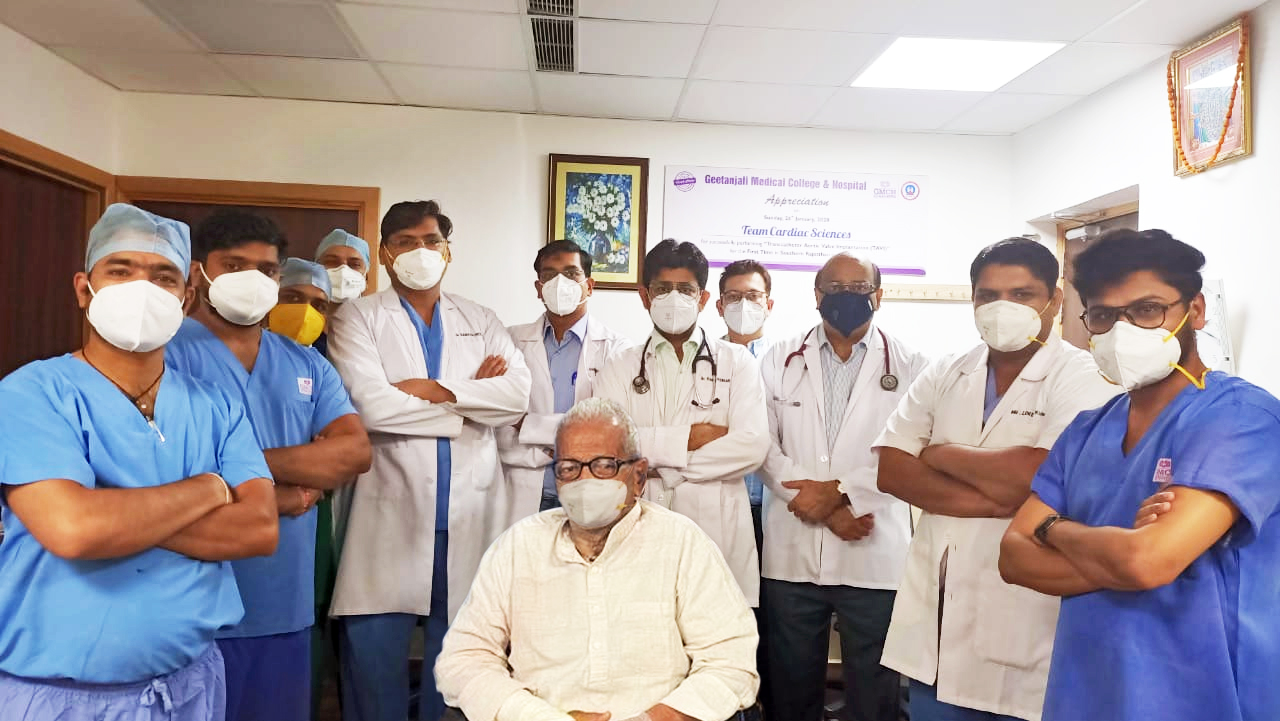 In our country, the advanced stage of heart disease is generally considered to be extremely dangerous, but with the help of modern medical techniques and the skills of physicians, even serious patients can be cured; its exact example was seen in Geetanjali Medical College and Hospital, where 71 years old Heart patient was treated with state-of-the-art I.V.L. (intravascular lithotripsy) techniques to break calcium followed by stenting. In contrast, in the patient's case, other hospital doctors suggested open heart surgery but it was too risky due to his advanced age.
Dr Ramesh Patel, Dr Kapil Bhargava, Dr Danny Mangalani, Dr Shalabh Agarwal, Dr Sandeep, Dr Shubham are among the team of interventional cardiologists who give this complex but successful treatment to the patient, Dr Anil Paliwal contributed from the Department of Anesthesia. In Geetanjali Medical College and Hospital, Udaipur, following all the rules related to corona seriously, complex operation and treatment are being done continuously.
What is the matter
The 71-year-old resident of Madhya Pradesh had been suffering from a blockage of heart artery for the last ten years. In the heart failure event in Geetanjali Hospital, he was admitted to the Cardiac Department. The patient said that he had constant complaints like cough, chest pain, breathlessness, excessive sweating, restlessness, and not being able to carry out routines properly for the last five years, for which he depended on medicines.
What is the shockwave coronary lithotripsy technique?
Shockwave coronary lithotripsy is a unique procedure that is also possible to treat patients with an advanced stage of coronary artery disease who have hard blockages due to calcium accumulation in their arteries. In advanced shockwave coronary lithotripsy, a particular balloon which delivers Shockwaves to break calcium is delivered in heart arteries through catheters via Femoral artery in the groin and normal angioplasty can be performed after that.
Senior Interventional Cardiologist Dr Ramesh Patel said that the accumulation of calcium in the arteries of the heart and the calcified blockage has always been a concern for cardiologists, the option is open-heart surgery for patients suffering from such problems. This technique was suggested in view of the patient's advanced age and critical condition, the expert cardiologist team planned to treat the blockage with help of shockwave lithotripsy technique.
Dr Ramesh said that the patient had a blockage problem for the last ten years and was brought to Geetanjali Hospital in a very serious condition. The patient underwent angioplasty in which there was complete calcium in the arteries of his heart and Major surgery like bypass in such a delicate condition could be very risky, so the latest technology was used for stenting the patient's excessive calcium artery in a very short time, now the patient is healthy and discharged from the hospital. "Till now shockwave lithotripsy techniques were available only in metros of India, treatment with this technique at Geetanjali Hospital is a huge achievement in South Rajasthan."
GMCH CEO Prateem Tamboli said that while following the Corona Guidelines, such complicated operation and treatment are being carried out successfully in Geetanjali.
Geetanjali Medicity has become a reliable medical centre for the last 13 years, continuously serving as Multi Super Specialty Hospital. Skilled doctors under one roof do complicated and complex operations and procedures. Geetanjali is a symbol of excellence by the experienced team of the Cardiac sciences, deciding the treatment procedure according to the patient's problem and providing the best treatment.
साभार :
---
© CopyRight Pressnote.in | A Avid Web Solutions Venture.