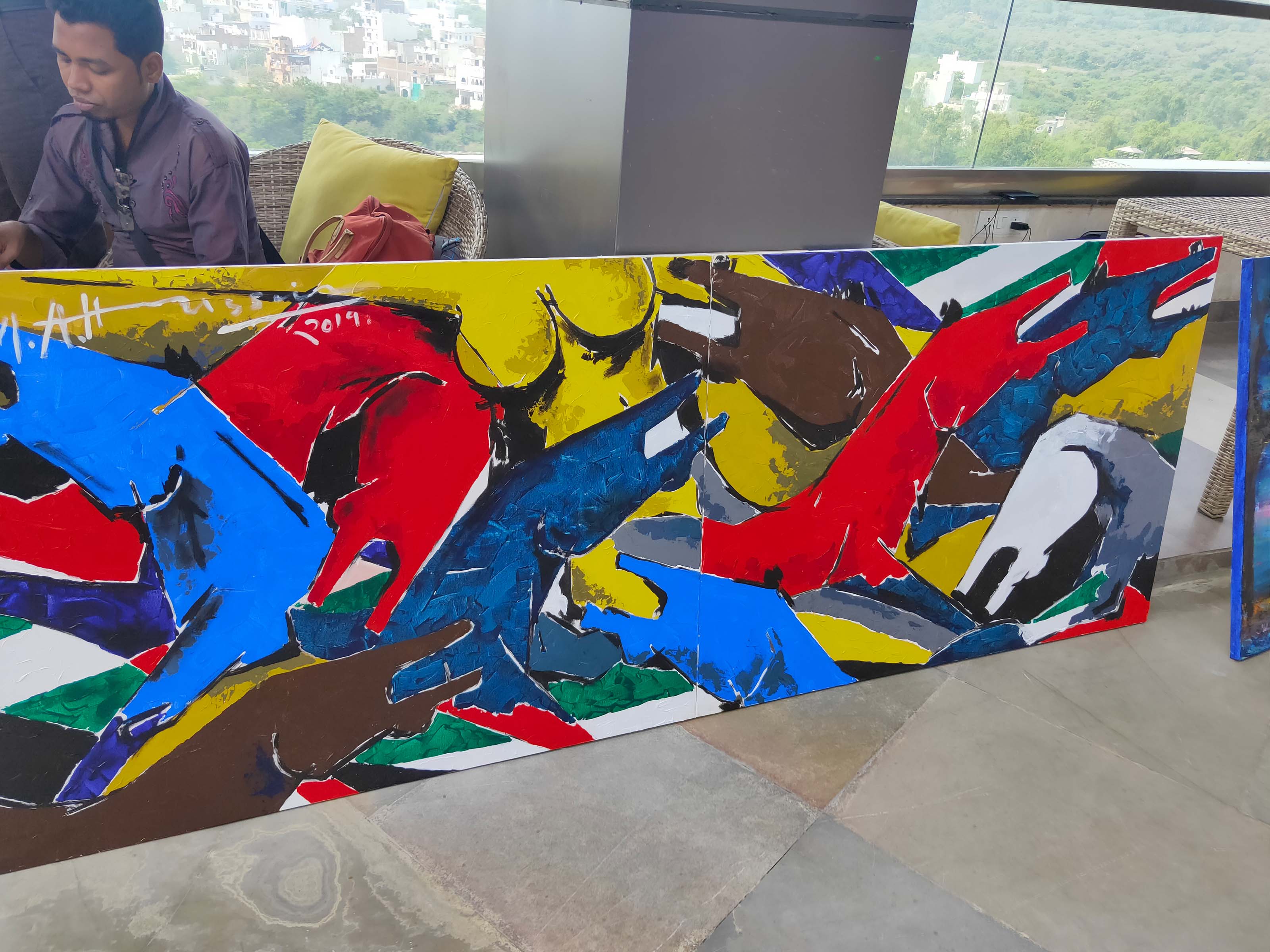 Udaipur. Young and experienced painters from 12 countries including India gathered at the Justa Group of Hotels and Resorts Sajjangarh. Within the last 7 days, the painting of paintings made in various places of Rajasthan was performed at 'Chitrashala' held at Sajjangarh Hotels.
Ashish Vohra and Deepika Govind, CEO and founders of the Justa Group of Hotels and Resorts, said that these painters put their contemporary work on the canvas using their emotions through their imaginations. By mixing past and present tense in these artworks, these artists tried to show that the art, embodied in nature, architecture, memorization, cooking of Japan, animals and modern art on canvas through acrylic color, will still speak... In his artwork, the painter MS Hussain beautifully depicted the future woman with the power of horses.
The Chitrashala was organized under the direction of Abhijeet Mukherjee of West Bengal. Vohra said that in the last 6 days these 44 paintiers produced 88 paintings. He said that for the last few years, JUSTA Group of Hotels and Resorts, with the objective of exchanging mutual culture between the country and abroad, to bring out the art, youth and painters hidden within them at the right place at the right time. He is trying to make his fantasies come true by bringing together the painters of the world including India. In this episode, paintings made by 44 figures from 12 countries were displayed in Justa Sajjangarh.
He told that all these painters arrived in Udaipur on November 3 and after reaching Nahargarh from there, these paintings were made for six days.
The paintings of these painters were exhibited - in this exhibition, under the leadership of Art Curator Aniruddha Chari, 3 painters of Poland, Elekja Prushenwij, Barbara Naisz, Roland Grubowski, 5 painters of Egypt, Dr. Fatma Abderlerama, Dr. Salma Elshrey, Dr. Samiha Tohme, Dr. Rania Aboulism, Dr. Mrs. Hanne Houkom, a painter from Viam Elmashre, Norway, 4 painters from Thailand, Piyangkhavuan Kumrun, Suriya Chhachharoin, Preya Ketkool, Natashuri Tekvrya, a Turkish painter, Dr. Yeldiz Arun, Reye Takanokura of Japan, Janhong Liao of China, Mrs. Akhinoor Binte Ali of Bangladesh, Mahmuda Siddhika, Spain Leuwke Loth, Dr. Clemens Bangoon Soo of Korea, Eslam Ismail of Egypt, Mohammed Dijouzader of Algeria, Mohammad Idir, India K. Avijit Mukherjee, Chandan Bhowmick, Sushmita Chaudhary, Arunwa Mandal, Sukant Sarkar, Kamal Mitra, Manoj Vaidya, Chaitali Chanda, Dhananjay Ghosh, Debashish Eminent painters like Kravarti, Anusuya Chakraborty, Asis Kumar Sanyal, Kumar Ranjan, Tusshar Potdar, Raj Mohammed, Manav, Santosh Mohan, Debashish Dutta, Adarsh ​​Baji, Rajesh Eknath, Madhusudan, Virag Desai, Shraddha Solanki, Mohammad Aslam Hussan participated in various Will exchange arts and culture between countries.
साभार :
---
© CopyRight Pressnote.in | A Avid Web Solutions Venture.