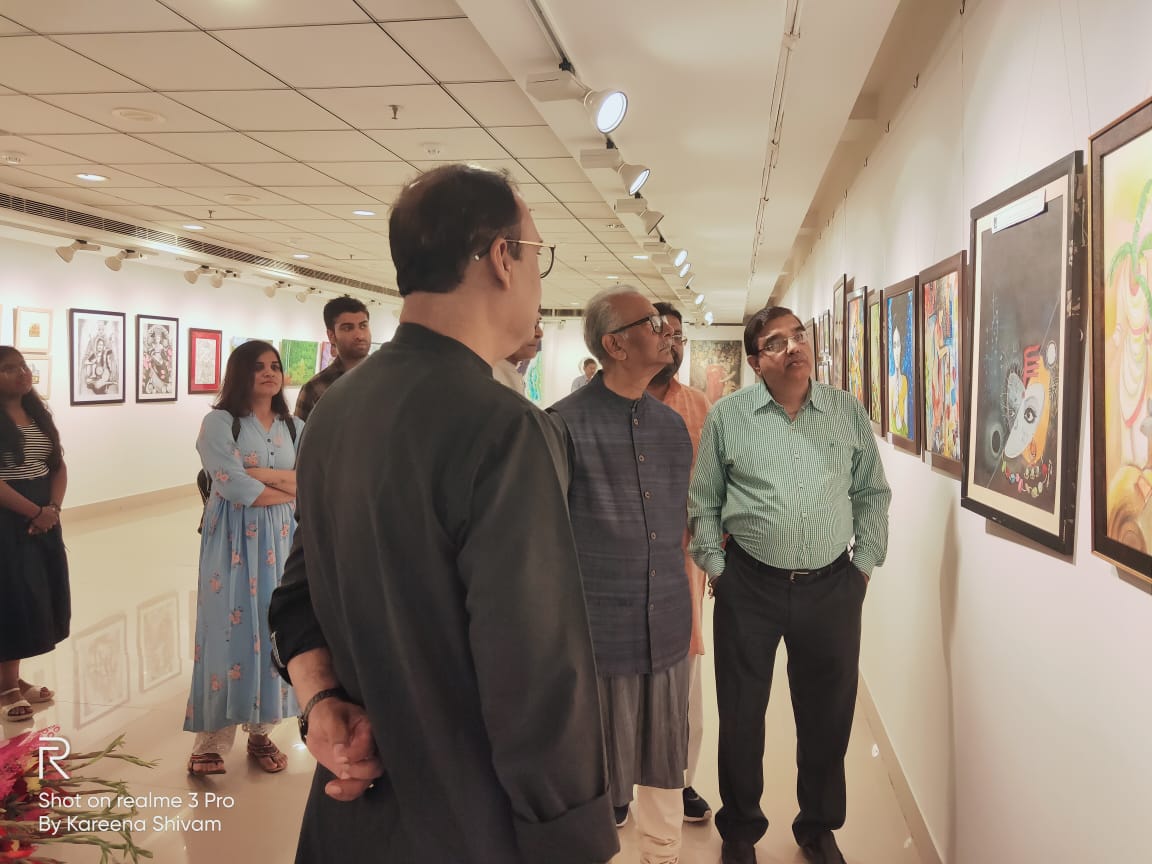 SPANDAN *October 2019, SPANDAN Global Art & CulturalFoundation, Goa brings positive art awareness, art enhancement, Global Art promotion, and art business to the artists.
According to SPANDAN Global Art & Cultural Foundation President Anant Vikas, Goa Spandan is organizing its 101st edition of National & International Art Exhibitions "SPANDAN art - Incredible Beauty & Power - II, New Delhi" a National Artists' Group Show inaugurated.
All the participating artists from different parts of the country with exhibits that capture an interesting mélange of imagination, perspectives, and styles. The Exhibition will continue till October 10, 2019, from 11.00 am to 07.00 pm.
Participating Artists :
1. Anu Ahuja, New Delhi
2. Anju Bhatia, New Delhi
3. Babita Hundal, Chandigarh
4. Beenu Tondon, Meerut
5. Chahat Soneja, Gurugram
6. Kripajyoti Nisha Singla, New Delhi 7. Monomoy, New Delhi
8. Neha Vadehra, New Delhi
9. Pooja Mudgal, New Delhi 10.Priyanka Rajput, New Delhi
11 Rachna Bagchi, New Delhi 12.Shreeya Aashish Gupta, New Delhi 13.Sonal Jain, New Delhi 14.Udhbhash Mukherjee, New Delhi 15.Upasna Sharma, New Delhi
Esteemed Guests :
In the presence of prominent personalities from the Society, Artists, Art Lovers and Media. Guests Prof. Niren Sen, Eminent Artist
Shri G N Bhatt, PR Expert, and Addl. Director(R) Information & Public Relations Department, Rajasthan.
Prof. Rajkumar, Mahajan Associate Professor, College of Art, Delhi
Shri Rakesh Kumar, Founder, Director, Sewa Delhi
Event Details :
Inauguration of "SPANDAN art - Incredible Beaut October 04, 2019 at 05.00 pm Onward. y & Power - II"
Venue: All India Fine Arts & Crafts Society, New Delhi
Believing art encouragement to be divine worship of God, I'm working towards a continuous goal, believing that art lovers, art creators and art worshipers can feel the aroma of new art every moment. As I roll back to my past experiences in field of art, I visualize myself in the year 2013 when I started my journey to enhance spirit of art in Indian hearts and the ultimate support from art field, the divine gesture I gained gave me a kind of positive energy that paved my path more beautiful and more stronger.
साभार :
---
© CopyRight Pressnote.in | A Avid Web Solutions Venture.