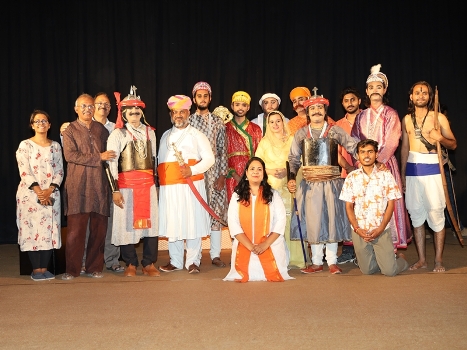 The region of Mewar is glorious part of our planet Earth. SagaThe eternal ethics of the legendary Maharana Pratap echoing through the play 'ASMITA' enacteds of brave warriors of this soil are written in golden letters in the global history.


In this context, the great Maharana Pratap, was the one and only premier Super Hero, who fought for freedom, Humanity, dignity and self-esteem. With a rare example of un suppressed zeal, he has carved a mark for the monarch's of Mewar.
To pay respect to this Royal Icon and to commemorate his 479th Birth anniversary the whole nation was celebrating gala functions country wise. In Udaipur too it was a land mark event through which a theatrical tribute was made by the Martand Foundation, Udaipur on 6th June at the auditorium of Bharatiya Lok Kala Mandal, Udaipur.
A joint venture of Maharana Mewar Charitable Foundation, The City Palace Udaipur and Bhartiya Lok Kala Mandal, the play 'ASMITA' was no less than a Mile stone in the arena of stage craft in the Lake city.


Directed by the noted theatre authority Vilas Janve and written by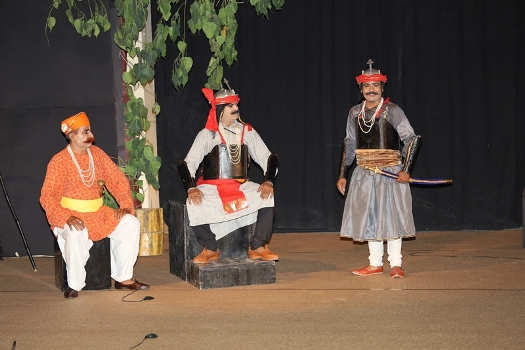 Dr. Chandra Shekhar Sharma, the episode and ideals of Mighty Maharana Pratap were a glittery endeavor.
The entire cast and characters with their painstaking presentation made this play go deeper into the hearts of the Udaipurites and was worthy of big applaud. Vilas Janve( who also played the lead role of Maharana Pratap besides his directorial role) is one worth mentioning artist who through his powerful gesture and dialogue delivery portrayed the values, Pratap was synonym of. Other artists fortifying this play with their roles were Manish Sharma(Abdul Raheem Khankhana), Kumud Dwivedi( Begum), Abdul Mubin Khan(Akbar), Siddhant Bhatnagar(Amar Singh) and Rekha Sisodia(Sutrdhar).Vijay Singh Gurjar, Jatin Bharwani, Mahesh Joshi, Irshit Sharma and Mahendra Singh Parihar also did justice to their respective supportive roles.
Music and Light effects are two prominent pace makers of any stage craft. It was the sapid nectar like stream to listen to and relish "Shiva doctrine" and other pieces which were melodiously composed and sung by Samarth Janve. So was the mesmerizing play of lights and shades skillfully designed by Dr. laique Hussain which added magic to this play.
One more worth mentioning aspect of the play was sturdy base of back stage ( Set, costume, make up, sound and stage props) skillfully tackled by Kiran Janve,Yogita Sisodia, Bhuwan Sharma, Man Mohan Bhatnagar, Vishal Jain and Bhawna Sharma.
This event also was studded with folk song by the folk singers and trainees of Summer Camp of BLKM along with the famous song "Mharo Veer Shiromani Des", that chanted the valor of the regalia of a bygone era.
Veteran poet Shri Madhav Darak's poem " Mayad tharo vo Poot kathe, Vo Maharana Pratap kathe" filled everyone's heart with vigor and vitality.
Illuminated by the graceful presence of Shri ji Arvind Singh Mewar, (Chairman and Managing Trustee of Maharana Mewar Charitable Foundation, Udaipur), this eve indeed be remembered for long and kept safe in the hearts and souls of all those who were present over there. Big hands for the organizers and Martand Foundation team.
साभार :
---
© CopyRight Pressnote.in | A Avid Web Solutions Venture.