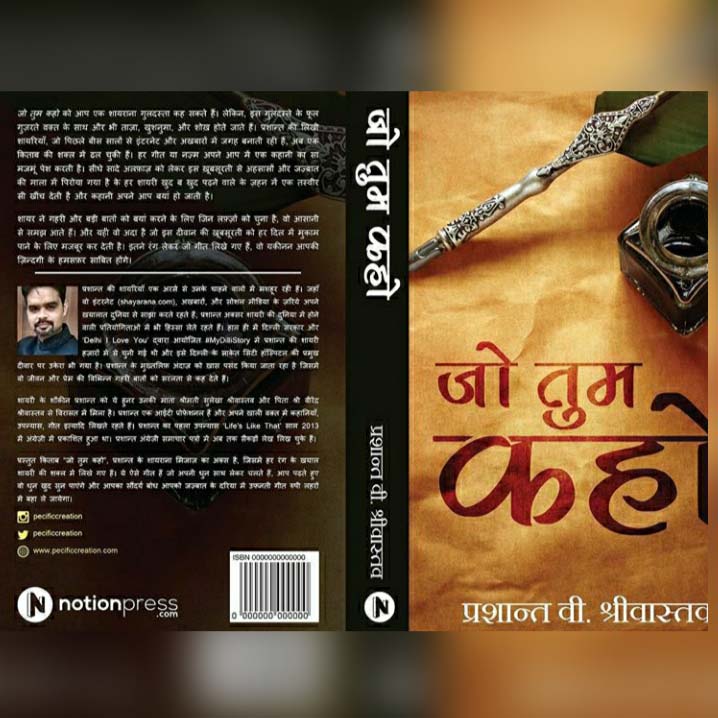 The title of your book "Jo Tum Kaho" is really intriguing. What is your view on the same, and what is it all about?
Thank you. The title 'Jo Tum Kaho' comes from poetry that I wrote for my wife about eight years ago. When I was picking poems for the book, Jo Tum Kaho only had the first paragraph, but the title kept me interested until I decided to keep it in the book. The same evening, I wrote the additional paragraphs and completed the poetry.
The poem tells the beloved that I will ensure that in the world, everything will happen as per your wishes. Be it the Sun or moon or anything else; I will ensure it does exactly as you want.
What made you to turn a poet?
I think my introvert nature and inheritance from my parents, who both are creative writers and deep thinkers. I discovered my flair of writing when my cousin Bhawna challenged me to write a fresh poetry way back in the year 1998. She was the one who appreciated my work, and then my mom encouraged me to write often. I write with all my heart and try and express what I feel about objects and people in the world around me
How much research and efforts were required on your part to complete this masterpiece.
I already have more than 1500 poems scattered across my diaries, computer sheets, and mobile device notes. The challenge was to pick one and leave the other. I typed all the poems in Hindi with the help of Google Input Tools and kept saving the document as a PDF in my cloud drive. I used to spend one hour regularly after dinner and had resolved to add at least one poetry to the collection every day. I thank my wife Shipra, and daughter Shranjika, for their support.
How do you manage writing along with your profession?
Poetry is not an activity which needs dedicated time and conditions. I write when traveling, having dinner, walking with friends, or even during social gatherings. The moment a thought strikes in your brain, it must be jotted down else it flies away never to return. At times, I wake up in the wee hours of the night and note down a thought on my phone to develop it later. My hobby is not so demanding.
---------------------------------------------------------------------------------------------------------------
About The Author: Prashant V Shrivastava is a published author of Life's Like That (published in 2013) and an IT professional. He has been writing since 1998 and has been acclaimed across various prestigious platforms like internet, newspapers, and various competitions.
साभार :
---
© CopyRight Pressnote.in | A Avid Web Solutions Venture.