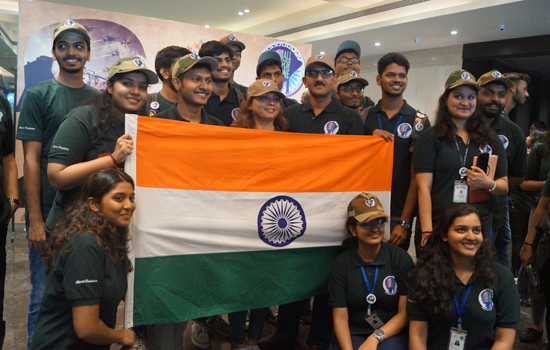 Mumbai, : Under the awareness program for One for All, All Four One,Season 2" organized by the Atharva Foundation, mock drill has been performed with security The preparation for the program is on full swing .The program is volunteered by the senior teachers of the Atharva group, employees, members of the associated with several social welfare agencies.The volunteers performed the patriotic songs and slogans.

On this occasion, Mr. Sunil Rane (President

Atharva

Foundation

), Col. Sudhir Raje (Retired) Varsha Rane

( Vice President

Atharva

Foundation

)

and Mr. Datta ji Rane (Former High and Technical Education minister) were present
Every Sunday, Atharva foundation will be organising various programs in Mumbai with the objective of spreading awareness about Armed Forces and to motivate the youth to choose such career for the safety of the country.
The awareness program is performed at the Gardens, Local Train and Station, Jogger's Track, Sea Beach and Clubs in Mumbai.
One for All, All for One" program will be organized on January 31, 2019, at the NSCI. Dome Worli, Mumbai. The guests of honor of "One for All, All Four One" Season 2 will be Shri Nitin Gadkari (Transport and Road Transport and Highways, Shipping, Water Resources, River Development and Ganga Conservation Minister) and Shri Devendra Fadnavis (Chief Minister, Maharashtra), Shri Padmnabh Acharya (Nagaland's Governor), Lt. General S K Parashar (GOC (MG and Goa), Wing commander Jagmohan Nath, Yogendra Singh Yadav (PVC).
साभार :
---
© CopyRight Pressnote.in | A Avid Web Solutions Venture.