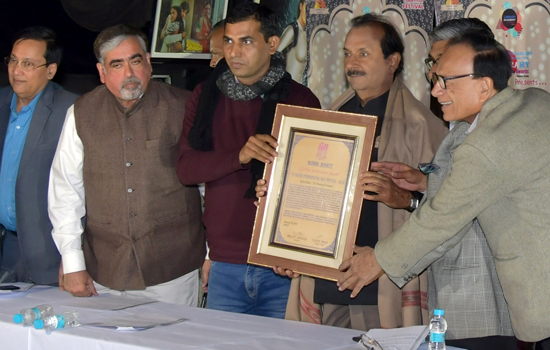 Jaipur : 18th January (Friday, 5:00 pm) will mark the beginning of the mesmerizing film journey, the inauguration of the Aryan Jaipur International Film Festival, the 11th edition of JIFF. GEM Cinema & Golcha Cinema along with 5 other venues will be the ground of festivities for screening 232 films from 64 countries at JIFF-2019. Along with some important workshops, seminars and chat sessions, the International Co-Production Meet will also be organized at JIFF. This year JIFF will be the biggest competitve festival for fiction films.
Art & Culture Minister Dr.B.D.Kalla along with 25 Film makers from 25 different nations will inaugurate the 11th Aryan Jaipur International Film Festival JIFF 2019 on Friday, 5:00pm at Historical Gem Cinema. The invited guests will be from France, Iran, Sri Lanka, USA, South Africa, Afghanistan, Bosnia & Herzegovina, Brazil, Cambodia, Canada, Germany, Italy, Mauritius, Nepal, Nigeria, Peru, Romania, Serbia, Singapore, Switzerland, Tunisia, U.K. and Yemen.
Famous Bollywood Writer Robin Bhatt will be felicitated with the JIFF-2019 Life Time Achievement Award.
Famous bollywood screenplay writer Robin Bhatt who has been awarded with the Best Screenplay Award for Baazigar will be presented the Life Time Achievement Award for JIFF-2019. Robin Bhatt has written almost 77 films like Baazigar, Krrish, Krrish 3, Chennai Express, Golmaal 2, Omkara, Ashiqui, Mela, All The Best, Shivay, etc. to name a few to his credit. Currently he is the President of the Screen Writer's Association, Mumbai.
Sincerely Yours, Dhaka from Bangladesh will be the Opening Film at JIFF-2019. It is a 134 minute film written in Bengali and directed by 11 directors with Abu Shahed Emon as the Creative Producer. Emon had participated in JIFF earlier also. Sincerely Yours, Dhaka is a wild ride through the streets of Bangladesh's Capital Dhaka that takes us on a bittersweet journey of emotions through Dhaka city. Marilyn Lights directed by Tanmay Singh will be screened from the host state Rajasthan.
Two films have been selected for the Closing Ceremony. First is Sons And Fathers from Srilanka directed by Sumathy Sivamohan featuring the life of Tamil musician Rex. It turns down the creative lens upon the history of the film industry in Srilanka.
The second closing film is Moving Parts from Trinidad & Tobago, directed by Emilie Upczakwhose. Its story revolves around a girl Zhenzhen and her life in the Carribean Islands.
The special screening from Rajasthan will be of the film Like a Stray Dog which is a 20 minute short fiction film directed by Richa Meena & Mickael Kummer.
There will be live performance by Karwan Music Band in the cultural evening at the Opening session by Kayam Ali kava.
Live Portrait Demonstration of Aryan Roj by Senior Artist Chandra Prakash Gupta will be organized at JIFF 2019 in the memory of the late son Aryan Roj of JIFF Founder Hanu Roj.
Films can be seen in 10:00am, 12:30pm, 3:30pm and 6:30pm shows
The day by day screening schedule of JIFF was released on 21st December. 232 films from 64 countries will be screened in Gem Cinema, Nile & Tivoli halls of Golcha Cinema in 10:00am, 12:30pm, 3:30pm and 6:30pm shows. Special shows for youth have been put up with movies in English, Hindi and other languages. There will be 10:00am and 12:30 pm shows dedicatedly for school students. The schools can book their shows accordingly for their students.
Delegate Registration is compulsory.
In order to take part in all the activities at JIFF, the delegate registration is compulsory. Student registration is free in the memory of Aryan Roj. School students are entitled to be given entry in the shows designed for them. The entry fee for visitors is INR 100 for one show, INR 200 for one day and INR 500 for five days. For registration and festival schedule visit: www.jiffindia.org
For more information visit: www.jiffindia.org
साभार :
---
© CopyRight Pressnote.in | A Avid Web Solutions Venture.