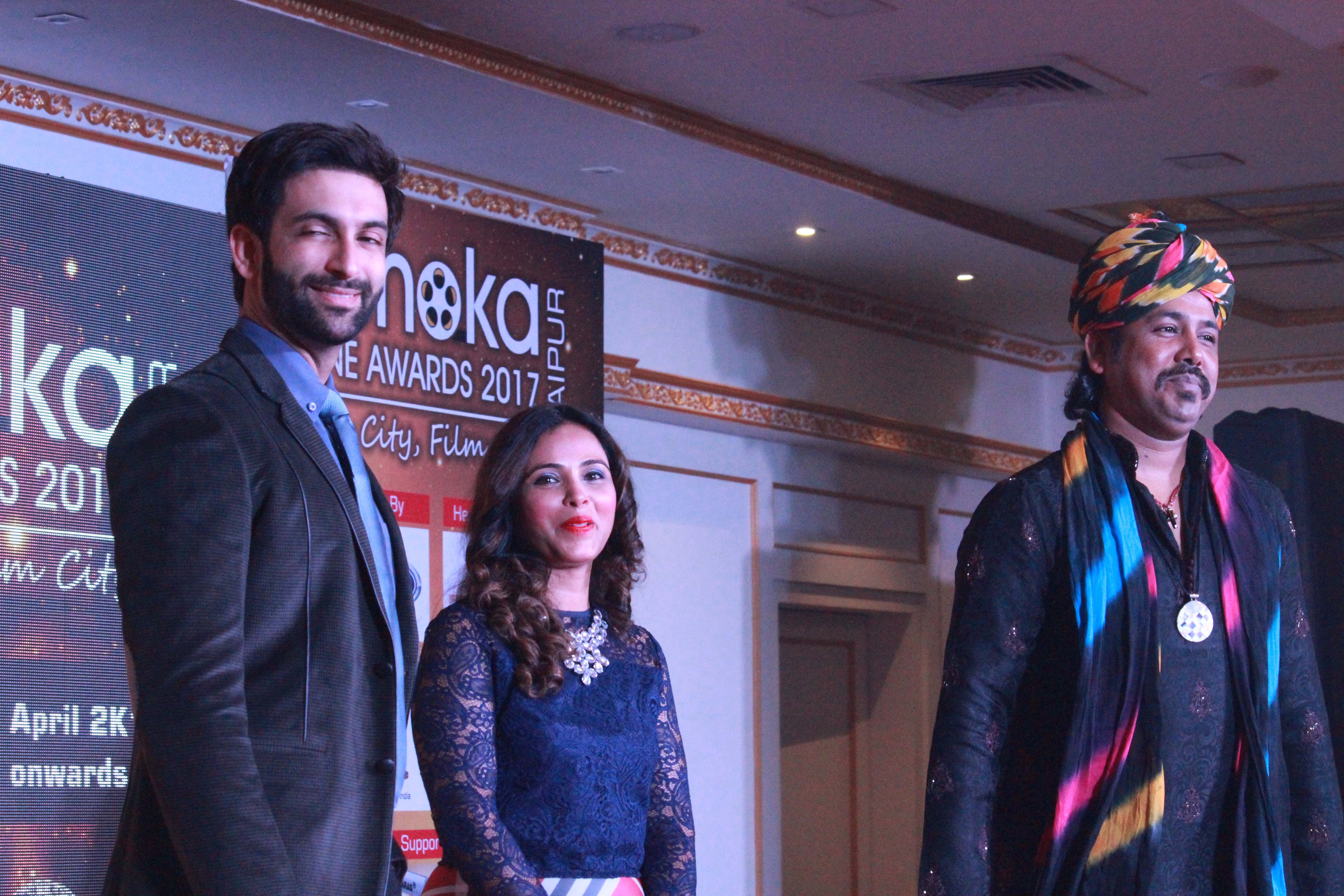 Udaipur. The second Ashoka Cine Award ceremony was organized in the poetic form at the Soyargarh resort on behalf of Film Sangharsha Samiti on Saturday. The celebrities from all section of entertainment were present
The selected children, youths and women were honored on this juncture for every area related to film, TV and other mode
The Chief Guest of the function, were Public Health and Engineering Minister Sushil Katara, Specialist, Lakshya Raj Singh Mewar Shantilal Maru, Sunil Parihar, Naran Singh, Ravi Rao, Dhindendra Sachchan, Dr. Vaibhav pareek
In this graceful ceremony where the Manganiyar artist, the Pepee Medley Rhym Band of Jaipur gave a presentation were main attractions. The fashion show was organized in which the young men and women beat their own water ways. The show was organized, in which various talents displayed their talents.
Mukesh Madhawani said that for the first time at the Ashok Cine Award the first debut of the city's emerging classical music and ghazal singer Dr. Surabhi Arya's the video album, Mahia, was launched by the guests The song that has been painted in the album is sung by Dr. Surabhi Arya and is picturized on herself and Jaipur's Miss Tourism International model Nitasha Singh. The video album has been shot in the green litigation of Udaipur. Raj Verma said that told that the wealthy versus versatile Dr. Surabhi started taking lessons in his music for short-term. So far, Dr. Surabhi has left his mark in the form of singing of Thumri, Gazal, Bhajan, Devotional and Classical Songs. Dr. Surabhi's music teacher, P. C. M. Makhan, in whose interrogation he received the title of music
This honors-program organizer Surya Prakash Suhlaka and Shalini Bhatnagar informed that Best Performance by the Best Child Comedy Artist, Shloka Agarwal was felicitated. Other than him Bharat Madhvani Best Debu Actor, Angel Sukhivani Best Child Dancer, Aditya Paliwal for Best Child Singer in Live Show, Pall and Chin, awarded.
Vardhaman Best Child Director, Suhalka Best Cinematographer Himanshu Jain Best Bollywood Anchor, Sushil Kumar Adyakya Best Director Film Making, Dr. Ramesh Joshi Best Actor on You Tube in Rajasthan, and Amit Mishra by TV artist Nandish Sandhu and Paras Bolyaya honored with Toffee.
Santhosh Kalra said that in the second phase of the musical and colorful ceremony, Bhilwara Best Character Artist in Rajasthani Film, Pratistha Thakur, Nand Kishore of Jaipur for Best Rajasthani Movie, Chirag Wadhwani of Udaipur, Best Stand Up Comedy Artist on Screen, Dr. Sweety Chhabra Best Bollywood Stylist Female, Keshav Parieri Best Bollywood Director were also conferred with Toffee.
In the third phase of the function, Best U Tube Singer Female Dr Surabhi Arya Wasim Ahmed, Best Sufi Singer, Best Actor Upendra Vyas in Series and Advertisement, Anil Dadhich Best Theater Artist, Nimisha Bhati to Best Actor Female, Jaiprakash Sen Best to Best Bollywood Costume Designer, Saurabh Jain, Leshesh Meghwal, Prem Kumar Jangid and Gaurav Yadav, were also felicitated the award were given by Kirti Rathod, Mahendra Sohatia, Narayan Singh and Rvi Ra0
Earlier years shown from 1940 to 80, from 1981 to 2000 and 2001 to the silver screen the film running history comanly called safar nama applause shingles. Finally vote of thanks given by co-convenor Santosh Kalra
++++++++
Source :